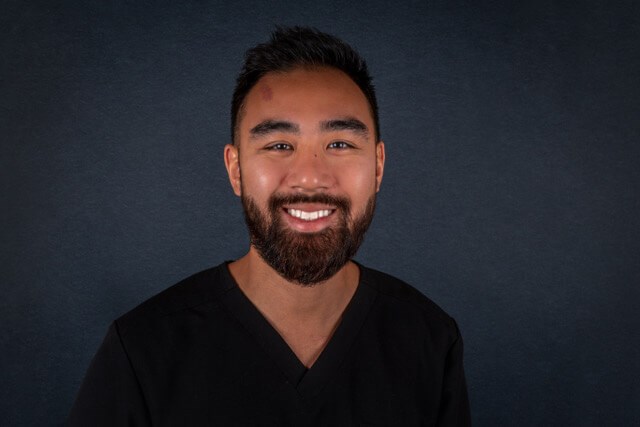 Dr. Andrew LeQuang is a highly skilled general dentist proudly serving the Katy, TX community with compassionate, personalized care. After earning a Bachelor of Science degree in biochemistry from the University of St. Thomas, he went on to receive his Doctor of Dental Medicine degree from Midwestern University College of Dental Medicine in Illinois. Dr. LeQuang continuously strives for excellence and maintains a strong passion for continuing education. His philosophy focuses on treating each patient as though they are a member of his own family and delivering the highest standard of care while minimizing the impact on their lives.
Dr. LeQuang understands the effect that quality and compassionate dental care can have on a person's appearance, confidence, and overall quality of living. To better serve his patients, he completed the Implant Pathway, CE continuum for the surgical placement of dental implants, giving him the skill and technique to provide comprehensive implant procedures. Dr. LeQuang strives to advance his profession and the oral health of the community by empowering patients through their treatments and educating them on how to achieve better oral health. He is proud to be an active member of the following professional organizations:
• Academy of General Dentistry
• International Congress of Oral Implantologists
• American Academy of Cosmetic Dentistry
• American Dental Association
• Texas Dental Association
• Greater Houston Dental Society
• Illinois State Dental Society
• Chicago Dental Society
• Delta Sigma Delta Dental Fraternity Lifetime Member
When he is not treating patients, Dr. LeQuang enjoys spending quality time his family and Pomeranian. His favorite pastime activity is eating dim sum on a Sunday afternoon in the company of his parents and three younger brothers. Dr. LeQuang has a passion for photography, loves the outdoors, and takes every opportunity to go camping and hiking all around the county. Though he has a desire to travel the world, Dr. LeQuang is a proud Houston native, die-hard sports fan, and avid supporter of all teams Houston.
Reviews
"This is the only place I go ! They do Amazing Lumineers! The staff are wonderfuland accommodating and the manager Shavanne is so sweet and they go out of there way to make sure you are happy ;) ken the treatment coordinator is so helpfulness sweet ;) the dentist here are the best"
M.W.
Yelp
"I am beyond terrified of the dentist. After having horrible/ painful experiences in the past, I haven't seen a dentist 15 years out of fear alone. Nashwa made me beyond comfortable, explained everything incredibly thoroughly before she did anything. She paid close attention to my body language and facial expressions to make surei was comfortable 100% of the time. After 15 years-I can honestly say-I'll never be afraid to go in for a cleaning again as long as she's around."
S.S.
Yelp
"Came in to get my crown for a root canal done at another dentist.  The other dentist told me the filling for my crown would last "6 months or more", but after a week it had come out and I decided to give Made Ya Smile a try. My first appointment involved them fixing the current work and measuring the area for my crown.  Everybody was very polite and efficient.  They accommodated my request to use local anesthetic only and the work was painless. Within an hour, the filling was repaired and I had a temporary crown and an appointment for the next week. When I returned to get my crown put in, the whole process was pleasant and timely.  They fitted the crown perfectly!  They recommended a deep cleaning (which historically is known to potentially be a bit of a racket), but overall the experience was exceptional."
M.M.
Yelp
"Dr. Miller is a fantastic dentist! I had him place some fillings for me in the past. He did a great job! Even another dentist looked at the fillings and said they were really nicely done :) Unfortunately, I decided to go to another dentist this week for a routine cleaning, because it was closer to my work. After a very long, uncomfortable x-rays and cleaning the other dentist told me I needed a crown. I wasn't confident in the other dentists treatment plan, so I called Dr. Miller's office and asked if I could come in for a second opinion. The staff was great and got me right in! The hygienist took x-rays, using up to date technology (unlike the other dentist) and Dr. Miller reviewed everything with me. He took his time and was very detailed and explained everything really well. Long story short, I don't need a crown at this time. I'm totally going back for future treatments if I do end up needing a crown down the road, because I feel like Dr. Miller does good dental work. It's nice to feel like I found a smart, honest dentist with a great staff, modern office, nice equipment, and who does quality dental work."
S.M.
Yelp
"It's my first time here in the Katy location. Great experience! Cedrick & Shavon were fantastic. I felt very welcomed, all my questions were answered and concerns addressed!"
A.S.
Yelp